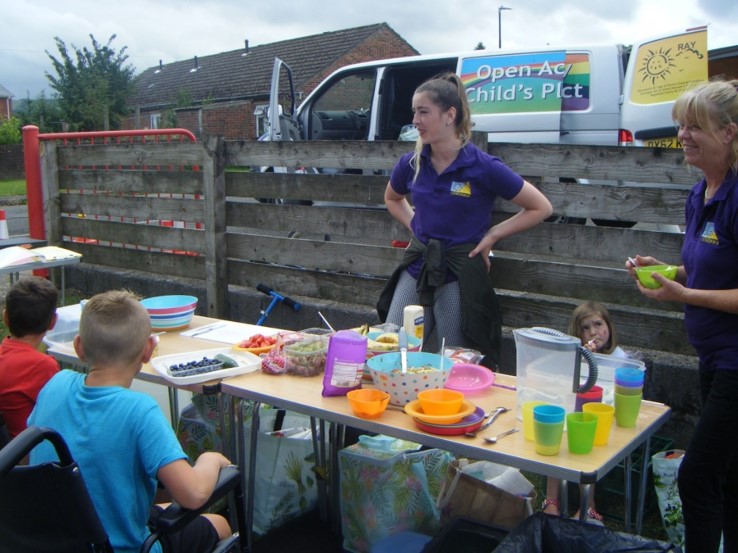 Volunteers are an important part of RAY Ceredigion, if you have any spare time RAY Ceredigion welcomes volunteers of all ages and abilities to help either on a regular or occasional basis.
Volunteering is a great way to make a difference to your community, gain skills, socialise, and enhance your CV and most importantly have fun.
We have a wide range of activities which you can volunteer:
Projects
Information
Days & hours
RAY DYMA NI
& RAY Social
Club
Support RAY Staff with weekly activities for young adults with disabilities, aged 17 – 30 includes gardening, baking, woodwork, art and more and/or support the monthly RAY Social Club on Friday evenings
Dyma Ni- 10am – 2pm Every Tuesday & Thursday Social club- 1st Friday of the month 6pm – 9pm
RAY Family
Centre
Support RAY staff to provide drop in sessions, messy play, singing, cooking, outdoor play for families, babies and pre-school children
Weekly day time sessions
RAY Open
Access Outdoor
Community
Play Sessions
Support our team of playworkers to provide outdoor play in communities including Cardigan, Llandysul, Lampeter and Penparcau
School holidays
RAY Actif Youth
Club
Supports our RAY youthwork team to deliver weekly after school, weekend and school holiday sessions we have groups for secondary and primary age range
After school Mondays, Tuesdays and Wednesdays term time + Monday – Thursday in school holidays
RAY Forget Me
Knot dementia
support group
Come along and support our Coordinator with this group for people with dementia and their carers
Weekly on Fridays starts at 10.30
RAY Wildlife
Garden
Come along and help us develop our wildlife garden
ongoing
RAY & Repair
Café
We are looking for volunteers with repair skills with electrical items, woodwork, sewing skills, bikes and more to attend a weekly repair café plus someone 1st Thursday of the month 11am-2pm
able to PAT Test and a volunteer willing to help organise the weekly sessions
1st Thursday of the month 11am-2pm
RAY Office &
Admin
Volunteer support is welcomed in our friendly office
Mondays to Fridays office hours
To volunteer you will need to complete an application form. The Volunteer Coordinator will take you through the induction process and support you in your volunteering experience.
RAY Ceredigion offers relevant training and certificates for volunteering hours.
RAY Ceredigion will complete a Disclosure and Baring Service (DBS) if applicable.
If you're interested contact us to find out more on 01545 570 686 or 07500802590, email our Volunteering Coordinator on rayvolunteering@rayceredigion.org.uk
'I started with RAY as a volunteer placement through Workways. RAY gave me the option to choose which activities I wanted to support and I chose the teenagers. I started helping out with the RAY Actif teenagers in 2019 and now less than 3 years later I am a member of staff. Through RAY I have qualified to Levels 2 and 3 in Youthwork, gained an Award in Education and Training so I can deliver accredited learning to young people, and I am about to start the Level 3 Transition in Playwork course to support my existing playwork training when I work with the younger age groups. Start volunteering today, you never know where it might lead!'

Nikki Hunter RAY Actif Youth Leader